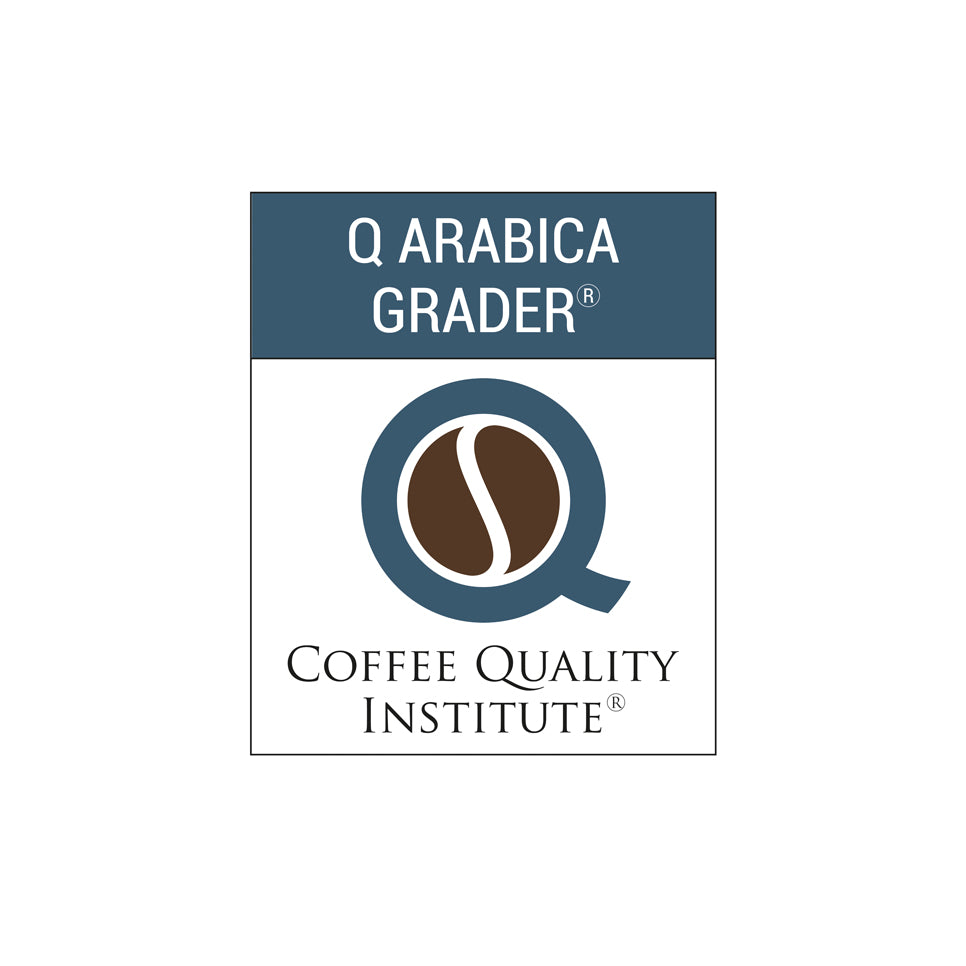 Coffee Quality Institute | Certified Q Grader | 2010, 2014, 2017, 2021
Matt Wade, HHCo Head Roaster, was one of the UK's first Q-Grader and renewed in both 2014 and 2017. He now forms part of a community of approximately 4000 people worldwide who are qualified to assess Arabica coffee. This qualification acknowledges both his credibility and experience to make buying decisions and to blindly assess samples for other coffee professionals. If you have a coffee you'd like us to grade, please do get in touch.
The Coffee Quality Institute
Since 1996, the Coffee Quality Institute (CQI) have worked to improve the quality of coffee and the lives of people who produce it. Quality is one of the most important variables that influence a coffee's value. However, many producers do not have access to the tools and support they need to understand the quality of their coffee, improve that quality, access markets that reward that quality, ultimately enabling them to make more informed business choices. That's where CQI come in.
CQI bring diverse stakeholders together to solve local challenges. Their customized solutions, shaped by coffee experts and decades of experience, result in long-term solutions that emphasize self-sufficiency. With deep roots in the coffee trade, CQI aim to facilitate market connections that build healthier supply chains and thriving coffee communities.
What is Q-Grading?
As part of this they provide speciality Quality Grading courses. The Q grader programme was established in 2004 as a way to objectively examine coffees and score them based on their many attributes and therefore overall quality – it is in fact the only certification in the industry that is based on quality.
The system quantifies taste attributes such as acidity, body, flavour, aftertaste, uniformity, balance, sweetness etc. to ensure all participants are identifying flavour characteristics in the same way. By using the Q system, coffee buyers can essentially communicate quality right the way through the coffee supply chain from the farmer to the exporter to the roaster to the cafe owner. By applying a score to a coffee, everyone involved in the process understands the quality of that coffee.
In  simple terms, a Q grader is qualified to give a coffee an SCAA score out of 100 and can therefore classify it as being specialty or non-specialty. To achieve 'specialty' grade (and therefore a higher price) a coffee must score over 80 out of the 100 points available. The Q Grader course encourages cuppers to blindly assess coffee without the influence of external factors such as price/farm/availability. This means the evaluation is solely based on the quality of the coffee, allowing the whole supply chain to look at the coffee objectively.