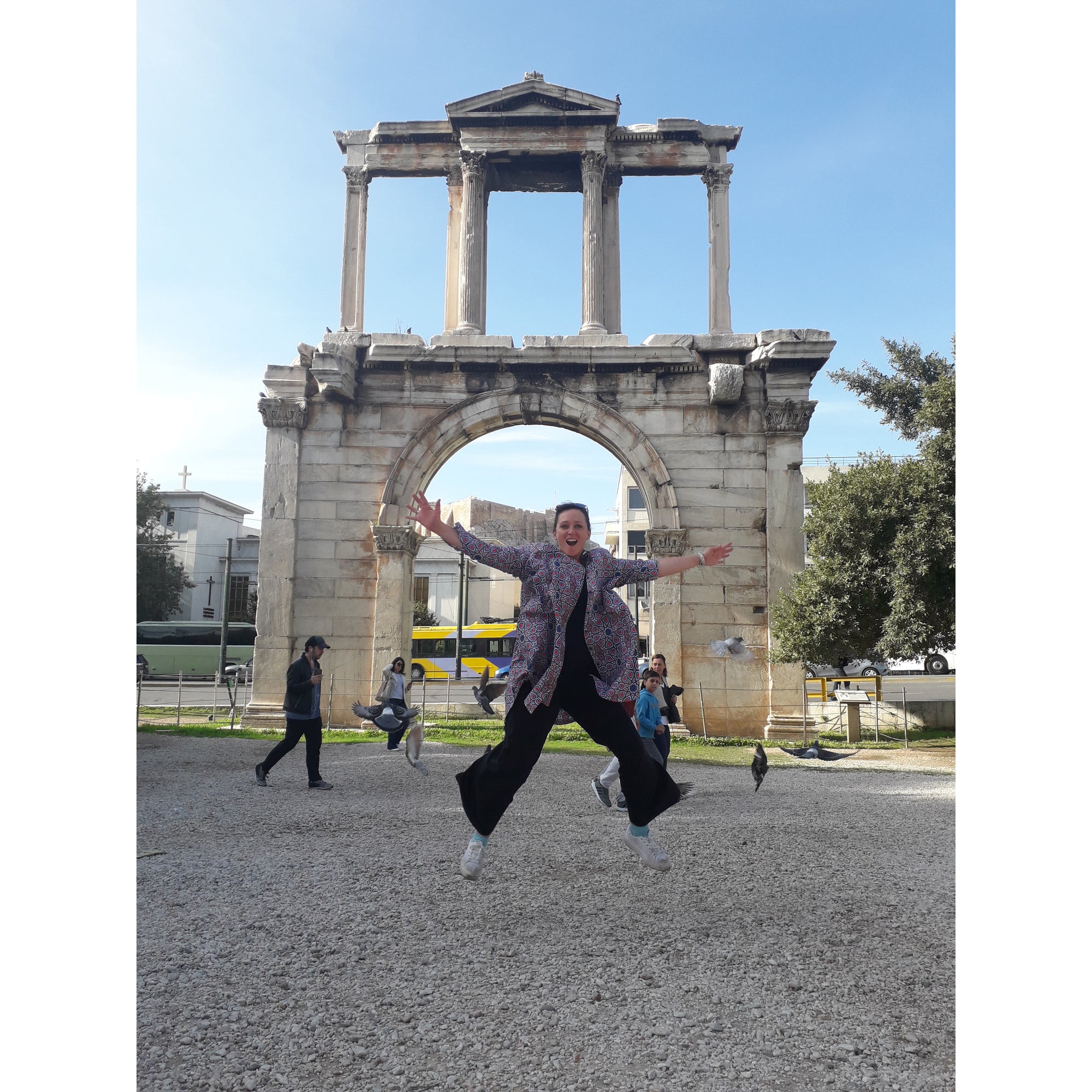 This November half the HHCo team were lucky enough to have 24 hours in beautiful Athens! Vinyl and speciality coffee being a priority, we found some amazing spots for a brew, some food, and discovered that Athens has 28 record shops (and that's just in the centre). 24 hours was nowhere near enough time - but we did discover a few little gems. 
City walkers by nature, we started early and walked the 45 mins from our apartment to Monastiraki Square through the National Gardens. First on the list was Ergon House for breakfast - a deli specialising in Greek ingredients with a hotel above and restaurant on the ground floor and mezzanine.
Coffee here is roasted by local speciality micro-roaster Taf. We met the owner of Taf, Yiannis Taloumis, when on a Q grading calibration hosted by Falcon back in 2013 or so. We then spent some time with him at Istanbul coffee festival. Keen Greek/Turkish ibrik brewers that we are, here at Ergon the offering didn't disappoint with a speciality option for Greek as well as espresso based drinks pulled on a La Marzocco Leva. The set up was so good, bar seating over deli counters, low tables under murals and plants, that we followed up at Ergon the following day for brunch. For our breakfast brews we went for their pourover which was a washed Ethiopia (unfortunately all the information they could give us!). There was a lack of information on the coffee from the restaurant team, which was disappointing but the coffees were well made and tasted delicious. 
Next up was a visit to Taf Roastery café and shop itself. A surprisingly small little spot representing the roastery. We tried the house 'Competition' espresso straight up and a flat white with the Panama Elida Estate natural, which was awesome. 
Ensued a few visits to records shops including Vinylio, slightly out of the way Underflow Records  with a massive selection and gallery space, super selective Habeat records - check out the VinylHub site as part of Discogs for a map. We then headed to Folk for lunch - and what a treat we had! This was our absolute favourite - we picked the  crab bau buns, little gem lettuce stuffed with pistachio, dill and avocado and scallops with naan, olive oil and zataar. The service was excellent, the food was perfect. We had another Taf coffee - Greek style - and turmeric coconut latte. It was the best brewed coffee of the trip. 
Athens is full of independent shops - jewellers, leather workers, stationers ... it wasn't long before we were lost in the streets around Monastiraki and we stumbled upon Peek a Bloom. A Geisen in the window, this cocktail/coffee bar with a good casual food offering roasts in-house - we had a pourover of a Panama Geisha natural, harvest date January 2018 ... which was a shame!
For our last few hours, after a some obligatory Greek ruins, we headed over to Nolan. A recommendation from the Michelin Guide, this little corner spot restaurant had a really exciting menu - Japanese/Greek fusion - which we wanted to save till last. We had the bean noodles with octopus, the special squid, cod in bau bun, ceviche and the grilled cabbage with blue cheese. Whilst it was definitely up there as a top level food spot - it wasn't a patch on Folk which remained our favourite! 
Finally we headed for a end of trip negroni at world renowned The Clumsies. It turns out that Athens is not only rich with cocktail bar coffee bars but also, some of the best cocktail bars - on our list for the next visit is Baba Au Rum and all year Christmas themed bar Noel.