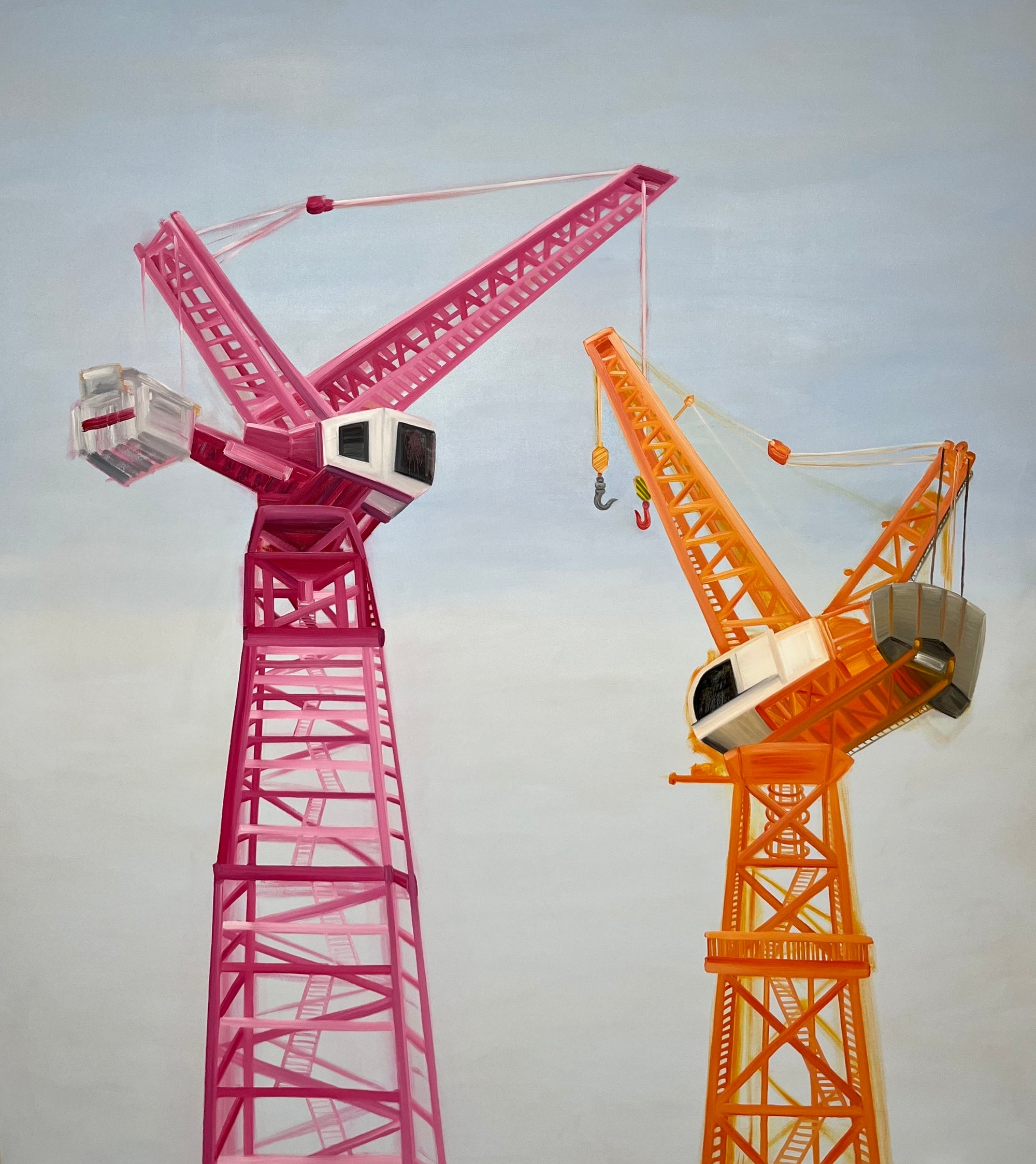 A RENDEZVOUS - FLEUR YEARSLEY
Construction cranes meeting in the sky – their anthropomorphic nature is like creatures in the   wild encountering a graceful exchange. The soft colours of the cranes and the idiosyncratic lines create strong yet vulnerable structures: an intricate fragility which holds a tension. When living in a city and being surrounded by constant building and growth, coffee offers a well deserved rest and pause.
Fleur Yearsley is a Manchester-based artist born in 1990. She graduated from the Manchester School of Art at MMU in 2013, before embarking on a Masters in Fine Art from the Slade School of Fine Art. She has since had her work displayed in galleries all over Manchester and London. We are so excited to have her join us on our Freak & Unique XIII project. 
Fleur explains, 'The subject matter of my paintings is the fruit of personal memories, often imbued with a sense of shared pop culture imagery. The symbols and objects of my work become a focal point for broad collective experiences instilled with mortality, they are capture moments of our past life, memories of what makes us who we are.

'Inspired by personal experience I capture fragments of lives moving through private and shared spaces. From childhood to adulthood, the hermetic bubble of the modern home to the city, parks and dance floors; in a visual language that sings a generational anthem. I imagine snapshots of scenes after an action has taken place, transforming these views into monumental paintings. Play is the life force running through my paintings, with dichotomies that bring a humorous approach to the sweet and sour.

'I structurally consider and refine the paintings with colourful sensibility usually on large canvas, allowing for a sense of immersion and for the object depicted to take centre stage. This blown-up scale of painting is comparable to looking through a microscope, finding details and viewpoints that may have been missed at first glance. The extensive size also intensifies the seemingly every day subject matter I explore and creates an unusual tension by vividly staging the commonplace objects that I paint.The freshness in their immediacy and openness, the paintings appear big and bold, but at the same time sensitive.

'At a time of social and political polarisation, I attempt to find commonalities with others by discovering shared memories through painting. What at first appear to be ordinary objects painted with directness and simplicity, serve as metaphors and devices to explore intimate relationships, emotional connections, and humanity through the materiality of paint.'
Here at Hundred House, we are big believers in supporting the arts whilst also promoting mental and emotional wellbeing. We believe that Fleur has created a painting which perfectly captures a pause in an industrial, constant life - a pause we hope you emulate when enjoying our delicious coffee. 
Find out more about Fleur by visiting her website (https://www.fleuryearsley.com) or Instagram (https://www.instagram.com/fleuryearsley/?hl=en).