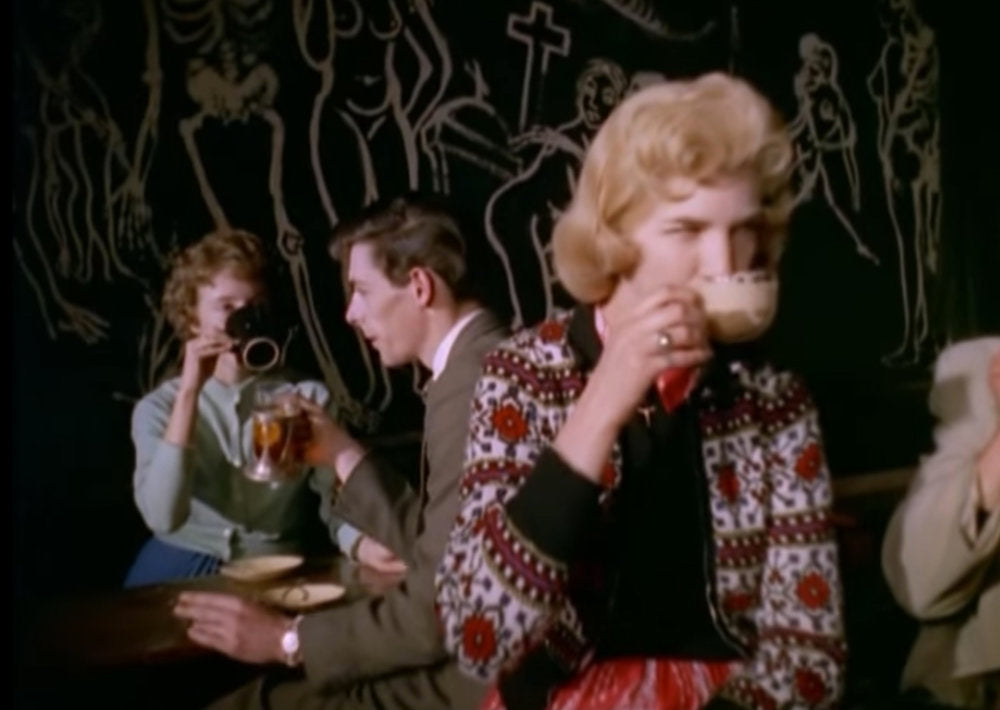 On Coffee | London: Coffee City
By Theo Inglis
Image taken from 'Old London Taverns. Historical, descriptive and reminiscent. With some account of the coffee houses, clubs, etc', 1899.
"Nobody is healthy in London, nobody can be" [1].
Good old Blighty… nation of tea-drinkers. A hot mug of char… that cosy relic of colonial domination, uniquely popular in Albion. Keep calm and carry on… with a nice cup of tea and a sit-down…
Tea is very much an integral part of the stereotypical image of the English, a sedate and comforting drink that reinforces the idea of stiff-upper-lips and gentle rolling green fields. Yet London, that great English vortex and beating heart of Britain, feels like a coffee city in a land of tea. In fact, coffee arrived here first, with tea following a close second, piggybacking on the framework that coffee had initiated. Both London and coffee may at first seem uninviting and distasteful, yet over time many find life without them unimaginable. They are both acquired tastes, clearly not for everyone. London, despite its many virtues, is not a comforting or sedate place; it churns the masses through their daily grind, exhaling them exhausted come evening time. Londoners on average now get 6 hours 25 minutes of sleep, 45 minutes less than the national average (ten hours apparently the global average in the early 20th century). Coffee then, bitter yet stimulating, an antidote to over-work or under-sleep, is surely the perfect accompaniment to modern London life.
The 363-year history of coffee in London is full of twists and contradictions. Yet despite massive changes in the taste and style of coffee that we drink, its aroma and effects are a consistent thread connecting us back to Samuel Pepys and the many others who drank at London's first coffee seller, a stall at the sign of Pasqual Rosee's Head. First opened in 1652, its eponymous Greek founder had developed a taste for coffee while the servant of English traders in Turkey. Coffee's exoticness has been another constant, while tea became quintessentially English; coffee has remained a bohemian and foreign 'other'. Its Eastern origins visible in many early coffee shops associations with 'Turks' or their heads.
This Arabic link, though not always expressed or important, remained until the early twentieth century when Mediterranean immigrants coming to London altered the landscape forever. Contemporary coffee culture is a jumble of cod-Italian, mock-French, globalised American chains, trendy Antipodean influences and non-specific hipsterdom. What you won't find is a coffee shop exploiting Englishness. In most central London coffee chains you are likely to see groups of tourists recharging and finding their bearings over familiar and reassuringly un-British cups of coffee. Britain's coffee, like its food, has had a somewhat deserved reputation for poor quality, finally improving following the recent 'coffee boom'. London's rich coffee history has very little to do with taste, one early sampler compared it to 'syrup of soot and the essence of old shoes', and everything to do with the culture surrounding this 'bitter Mohammedan gruel' [2].
London's taste for coffee survived the early trials of the Plague and Great Fire, with numerous coffeehouses springing up, particularly in areas of business and commerce, London took to coffee faster than any other European city. Coffeehouses became tribal, with ones' interests, politics and profession becoming key factors in deciding where to patronise. Newcomers to the city would head to a house that suited their standing in life, to make friends and find employment or habitation, although it was said in 1730 that 'a man is sooner to be asked his coffeehouse than his lodgings'. Coffeehouses also facilitated a rudimentary version of online dating during the 18th century, with singles placing adverts in newspapers or periodicals, both commonly read over coffee, with instructions for letters of interest to be addressed to their coffeehouse.
The coffeehouse as a new space for both pleasure and commerce outside of ones' home is an early example of what German sociologist Jürgen Habermas would call 'the public sphere' where 'private individuals assemble to form a public body' [3]. For the sum of 1p one could use the coffeehouse as a base for the day, the association of coffee shops with loafing freeloaders, spending little while staying long is a trope that still rings true. Partaking in coffee was rarely the only reason for spending time in a coffeehouse; they were often lively with debate, the topic dependant on the clientele and their particular predilections. Many members of the Royal Society were known to meet and debate at the Grecian just off the Strand, while the radical Chartists of the mid 19th century met in Lunt's Coffee House at Clerkenwell Green, and often spread their political messages through readings at coffeehouses.
Coffee shops full of lively public discussion may now seem an outmoded image, although it was perhaps true at some moments in 20th Century London. This death of coffeehouse discourse has long been mourned with one 'Harry Honeycombe' writing in 1826 that he cannot pass Covent Garden without thinking of 'the old coffee-houses and their wit' observing that 'there are no such meetings now, and no coffee-room that looks as if it would suit them' [4]. Although the coffeehouse as a place for debate seems a dead concept, as places of business and commerce they live on in today's world of wi-fi zones, meetings and Macbook-wielding freelancers. Coffee and business have long gone hand in hand, alcohol and drunkenness did little to help London's economy, but coffee fuelled great developments, with original coffee-seller Pasqua Rosée writing in 'The Virtue of the Coffee Drink' that it made men 'fit for business' [5]. Famously Lloyds coffee house became Lloyd's of London the insurance market, while the Stock Exchange grew out of Jonathan's Coffee House. Coffee culture also spawned many publications, with Tatler and Spectator publishing gossip and news overheard in coffeehouses. While Buttons in Covent Garden installed a marble figure of a lion's head into which writers could place letters for the consideration of the Guardian newspaper. Writers, like businessmen, have always gravitated towards coffee shops, something still seen today in the clichéd image of the writer typing their great novel (or trying at least) on a laptop in a quiet corner of Starbucks.
In The Strange Case of Dr Jekyll and Mr Hyde, Robert Louis Stevenson imagines a potion which turns an otherwise sensible law abiding Londoner into a violent marauding nightwalker. Coffee, a stimulant from the Arab world, perhaps could have been seen in similarly devilish ways, potentially inciting rebellious late night gatherings. However, in the context of rampant all-day alcoholism, it actually presented a more moral alternative, with many temperance campaigners of the 19th century opening coffee houses, modelled as pubs without alcohol. Once cheap enough by the mid-19th century, coffee was finally able to replace porter beer or gin as the drink of choice for working-class breakfasts. Coffee from the very start was marketed as a sensible alternative to alcohol, the 'all healing berry' making men 'both sober and merry'. This seems ironic, given coffee's current status as something to be given up or cut back in the yearly 'detox'. Not that coffee culture was always so moral; coffeehouses often became gambling dens or doubled as brothels. One of London's most novel establishments 'The Folly', a boat anchored just off Somerset House, eventually became little more than a floating drinking den of 'promiscuous dancing'.
Despite promoting sobriety and facilitating big business, there has always been a sense of novelty to London coffeehouses, sometimes provoking public ridicule. British coffee drinking has remained a slightly self-conscious endeavour, never quite as natural to us as our European cousins. Our coffeehouses have subsequently never been afraid of novelty, with the Virginia Coffeehouse on Threadneedle Street housing a large rattlesnake and scorpions in 1736. Meanwhile many Soho espresso bars of the fifties — usually imagined as sophisticated jazz dens full of black clothed beatniks — actually had elaborate contrived themes akin to our tourist-trapping modern day themed restaurants. The 'Coffee Bar' episode of the documentary series 'Look at Life' [6] from 1959 shows 'The Macabre' a death themed Soho coffee bar complete with hanging plastic skeletons and fake skull ashtrays, far more ridiculous than anything in contemporary London. These trendy Soho coffeehouses were wonderfully parodied in a 1956 radio episode of Hancock's Half Hour titled 'The Expresso Bar', in which Hancock says 'The worse the place is the better, it's the vogue these days…find yourself a dirty cellar and you're in business' [7]. The contemporary coffee shop aesthetic of industrial or shabby-chic is clearly not so new; with Charles Dickens in 1852 describing coffeehouses by saying that 'The ornamental is usually sacrificed to the useful'[8].
Still from 'Look at Life – Coffee Bar', 1959.
The outlandish flavours or sweet additions so often bemoaned about contemporary coffee are nothing new either, with flavours such as ginger, honey, clove, cinnamon, spearmint and even mustard recorded in coffee in the 17th century and sugar-candy a very common ingredient to improve the taste. Today's coffee culture may seem different, more pretentious perhaps and it's drinks often less sophisticated or too fancy (sometimes hardly coffee at all), but as I've discovered, there is very little that is new about the situation. London is a coffee city.
Still from 'Look at Life – Coffee Bar', 1959.
This piece was originally published on Unmaking Things
***
Jane Austen, Emma, 1816.

The London Spy, Ned Ward, 1701.

The Public Sphere: An Encyclopedia Article, Jürgen Habermas 1964.

New Monthly Magazine, 1826. Quoted in 'London's Coffee Houses: A Stimulating Story', Antony Clayton (2003)

The Virtue of the Coffee Drink, Pasqua Rosée.1652.

https://www.youtube.com/watch?v=_nsRHHcq1P8

Hancock's Half Hour, The Expresso Bar, Written by Galton and Simpson, 1956.

'A cup of coffee' in Household Words a Weekly Journal Conducted by Charles Dickens, No.127 August 1852. Quoted in 'London's Coffee Houses: A Stimulating Story', Antony Clayton (2003)